Friday, January 11th, 2013
(Note: if you want to come join the planning for Rebol's identity, much of the conversation is happening publicly, in the StackOverflow Rebol [and Red] chat room. It's a place for conversations about the languages of all kinds, and there's even a RebolBot that can evaluate expressions!)
After decades of pondering and implementation, the Rebol programming language quietly went open source on December 12th, 2012 (12-12-12). The language's chief designer, Carl Sassenrath (of AmigaOS fame), had this to say:
You probably thought the source release would never happen? Am I right?

Well, it's there now in github. This is preliminary. Once I know some of you have built it successfully, I'll make a more public announcement and add a tarball for download from rebol.com.

I'll check in here for several minutes every night to respond to any questions.

Let's see what happens… Who will be the first to port it to Android?
Within 8 days, German developers at Saphirion had made an experimental Android port. I myself made the minor patch to get Rebol building on HaikuOS. Instructions then came down the line for building on Raspberry Pi, Beagleboard, and Pandaboard.
As people began absorbing the good and bad of the first-ever-sighting of the source code for Rebol, wheels began to turn. By request, one of my pet projects (the redesign of the Rebol logo) was thawed out of its 3-year hibernation.
I won't repeat the long-winded-argument I made years ago for Rebol Technologies replacing its old icon:

…with a new icon that I created based on Rebol's heritage, as well as the notion of bracketed series of words (as in [o]):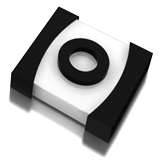 Rather, I'll just talk about the issues involved in staging a "design intervention". of this nature…